Harsha was a 68-year old female diagnosed with advanced pancreatic cancer. Undergoing chemotherapy with a senior onco-palliation specialist in Bangalore, Harsha was dealing with familiar side effects of nausea, pain, and loss of weight. She was also starting to lose her ability to move around. With time and age, her bodily functions were slowing down and she got bedridden.
Harsha's family was experiencing a lot of emotional stress due to her deteriorating health. They did not want to put her in a cancer hospice. Instead, they wanted her to be at home. However, the frequent episodes that Harsha experienced at home were becoming difficult to manage.
Ubiqare's End of Life Care Program Offers Comfort
Ubiqare stepped in with a dual role. One was to offer as much comfort as possible to Harsha. Second was to engage with the family and to support them through the emotionally stressful time.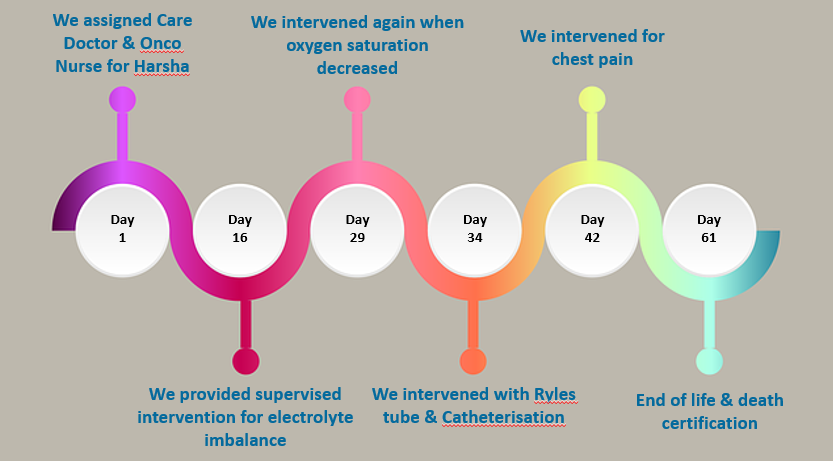 We arranged for a Care Doctor and skilled onco-nurse to look after Harsha. Our Care Doctor interacted with the onco-palliation specialist to understand the care regimen and protocols to be followed for her. We also provided supervised interventions for electrolyte imbalance and decrease in oxygen saturation that she experienced.
We created a network of supportive care services and proximity clinics for Harsha to get immediate medical attention and avoid stressful travel to hospitals. We also engaged with the family to help them deal with emotional anxiety.
After Harsha succumbed to her illness, our Care Manager helped the family deal with the formalities of arranging for an ambulance, obtaining death certificate, etc.
Outcomes
During the 2 months, we avoided 3 hospital readmissions for Harsha. Our Care Doctor's constant touch-base with her onco specialist ensured that there was a continuity of the specialist's care regimen.
This is what Harsha's daughter had to say about Ubiqare:
"It is difficult to put into words what a blessing Ubiqare Health was for us. The care doctor and staff took unbelievable care and were prompt and compassionate. Your attention to ensuring my mother's well-being was exceptional. At no point in time, did I feel like I was handling my mom's illness alone. I always felt I could confide with the care doctor about her symptoms and receive immediate treatment and call the staff regarding anything. You provided services such as audio-video calls for frequent monitoring and updated the senior doctor of my mom's condition, connected us to agencies providing ambulance and other medical equipment and appointed a qualified and suitable nurse to look after my mom. I will be pleased to recommend your services."